PECTORAL IMPLANTS : PECTORAL PROSTHESIS AFFORDABLE PRICE
for €3400 All Inclusive
---
Unable to achieve the chest definition that you desire even with frequent exercise? Then, pectoral implant surgery is the ideal solution to improve your chest contour!.
Pectoral implants gives the chest contour a more sculpted and masculine look by inserting implants made of solid silicone under the pectoral muscle.


Indications
The procedure of pectoral implants is destined for both younger males whose pectoral muscles are under-developed and older males whose chests are drooping.
It aims at improving the pectoral shape and contour, particularly for men who are unable to build chest gains in the pectoralis major (inferior section of the chest) and pectoralis minor (superior section of the chest) even with frequent exercise.
The prostheses will therefore permanently give them a firm, contoured and attractive chest look. More and more men are concerned about their appearance and go for cosmetic procedure to harmonize their bodies or to correct imperfections of the face:
rhinoplasty(nose surgery), abdominoplasty(belly surgery) and pectoral implant placement are among the most required procedures by men.
Pectoral implant placement is usually undertaken by two type of patients: young men whose pectorals are not sufficiently developed, or middle-aged men suffering from a falling chest.
This procedure is indicated to patients who, despite physical efforts and despite bodybuilding sessions, cannot develop either the pectoralis major (lower part of the chest) or the small pectoral (upper part).
The prostheses will therefore give them that firm and muscular appearance in a permanent way.
What are pectoral implants made of?
Pectoral implants come in a variety of shapes and sizes, and must be chosen according to the patient's morphology. The shape of pectoral implants are either rectangular or rounded parallelogram.
Made of solid and cohesive silicone gel, these implants imitate the look and feel of the pectoral muscle.
Before procedure
Pre-surgery consultation with the surgeon will allow him to make an assessment of the patient's needs and its overall health. The thorax will be measured and implants will be selected to be in full compliance with patient's morphology (size, volume, projection). A complete check-up and a blood test should be conducted.
Some precautions must be taken by the patient, including quit smoking one month before the procedure, as well as stopping aspirin and anti-inflammatory drugs 10 days before the procedure. During the preliminary consultation, the surgeon will determine whether the patient is a good candidate for the procedure or not. S/he will also discuss the patient's expectations and desired outcome.
The surgeon will measure the thorax and choose pectoral implants that are adapted to the patient's morphology; taking into consideration the size, volume and projection.
A medical check-up and a blood test are required.
Some instructions have to be followed prior to the procedure:
Avoid medication containing aspirin and anti-inflammatories ten days before surgery
Stop smoking one month before surgery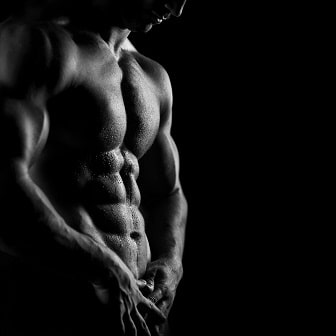 During procedure
Pectoral implants procedure is performed under general anaesthesia, and lasts for about an hour to two hours. The surgeon starts by creating an incision of about five centimetres under the armpit area.
The later placement is intended to leave minor post-operational scarring. Once the cut is open, the surgeon proceeds to the insertion of implant under the pectoral muscle.
To conclude the procedure, s/he sutures incisions and places a bandage on the operated area.
After procedure
A thoracic support girdle must be worn during the first three weeks following surgery to promote a quicker and healthier recovery.
A recovery period of five to ten days has to be taken, and work can only be resumed after ten to fifteen days following surgery.
Physical activity should be avoided for four to six weeks, and can only be resumed upon the surgeon's approval.
Post-operational consultations will be scheduled to follow the patient's recovery.
Results
The results of pectoral implants are immediately visible. Over time, post-surgical swelling will resolve and incision lines will fade.
Satisfaction with your new image should continue to grow as you recover and realize the fulfilment of your goal for a contoured chest. Results of this surgery are permanent.
Placement of pectoral implants : what are the alternatives
Breast Lipofilling
also known as breast lipomodelling is an alternative to pectoral implants; it can enhance definition and volume in slim patients, improve the muscular contour in athletic patients, and provide a muscular shape in heavier patients.
Contact us:
Phone: 00 216 22 960 337 - Email: contact@carthagomed.com
Quote request
If you are interested in this surgery and if you want to ask us questions or ask for a free quote, we invite you to call us by phone or fill out the contact form available on our website. Our team will answer all your questions and send you your free quote as soon as possible.