LIPOSUCTION PRICE
All Inclusive from 2 000€
---
If you wish to have a more refined and sculpted figure, Then Liposuction is the ideal solution for you!
Liposuction is one of the most requested and performed surgical procedures worldwide. The latter aesthetic procedure uses a suction technique to remove fat from specific areas of the body, such as the abdomen, hips, thighs, buttocks, arms or neck.
Liposuction also shapes and contours these areas. You may be a good candidate for a liposuction if you have too much body fat that failed to respond to diets and physical activities.
Liposuction : indications
Liposuction is a surgical procedure designed for any person who wishes to remove surplus fat from different areas of their body.
Surplus fat can be due to different factors, such as:
A sedentary lifestyle
Unhealthy eating
Post-pregnancy: liposuction constitutes an ideal surgical solution for women who wish to refine their figure after one or several pregnancies.
One of the conditions to undergo liposuction is having elastic and firm skin to maximize refinement and achieve optimal results.
If abdomen skin slackening is important, then the surgeon may suggest combining liposuction to
Tummy Tuck
to achieve results that are more satisfying.
Added to its function of removing surplus fat, the latter procedure will eliminate excess skin to give the stomach a flatter and more refined look.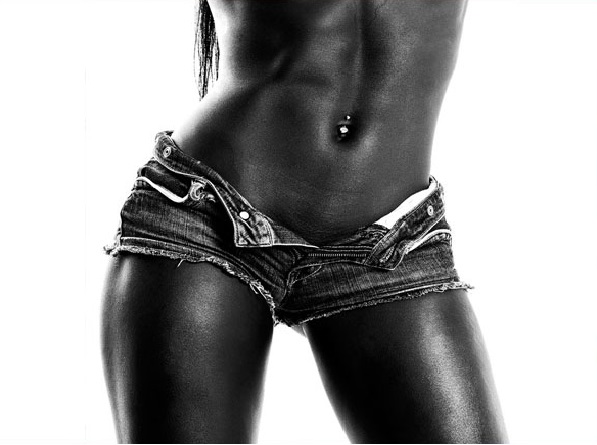 If the sagging skin on the abdomen is important, so in addition to liposuction, the surgeon may recommend a
Tummy Tuck
: in addition to the extra fat, this operation will aim to remove excess skin to restore the abdomen a flatter and more refined appearance.
Liposuction treatment areas
Liposuction is used to remove fat from various areas of the body, such as the abdomen, buttocks, hips and thighs.
Nowadays, a considerable number of patients request a liposuction of the calves, ankles, and knees. In addition, novel techniques of liposuction permit refining the chin and the neck.
More male patients, during the past years, request undergoing a
gynecomastia
; a technique that corrects enlarged or overdeveloped male breasts.
Regardless of the treatment area, results are visible after few weeks: the skin is toned and the treated area is rendered more refined and aesthetic looking.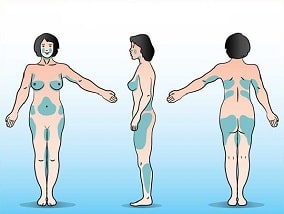 Before liposuction procedure
1. During the preliminary consultation, the surgeon will determine whether the patient is a good candidate for the procedure or not. S/he will also discuss the patient's expectations and desired outcome.
2. The patient has to be conscious that liposuction is not a miraculous solution to obesity. It rather coherently contours and refines the figure.
3. The surgeon will recommend that the patient be within 30% of their ideal weight before going under the knife.
4. The surgeon will examine skin quality and elasticity to make sure that the patient is a good candidate for the procedure.
5. A medical check-up and a blood test are required. An examination by the anaesthetist is necessary prior to surgery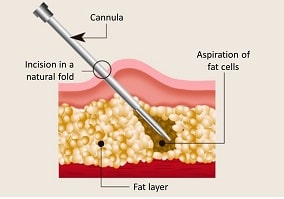 During a liposuction procedure
Liposuction is performed under general anaesthesia and lasts up to two hours, depending on the treated area and the performed surgical act. The procedure necessitates a hospitalization period of one to two days.
Through a small skin incision, a suction tube is inserted into the fat pockets and swept through the area where fat is to be removed.
Incisions are very discrete and hardly noticeable after the procedure.
Once the procedure is over, the surgeon will recommend that the patient wear a compressive garment for a period of two to four weeks in order to alleviate bruising and swelling.
The compressive garment is to be worn for a period of two to four weeks in order to diminish bruising and swelling.
After liposuction
Liposuction is a slightly painful procedure. The surgeon will thus prescribe the appropriate pain medication to alleviate any pain or discomfort.
Bruising and swelling are expected, but both will fade away rapidly.
A bandage must be placed on the operated area for four to five days, and a compressive garment worn for a period of fifteen days to one month so that the skin is retracted and bruising and swelling are minimized.
The surgeon may recommend lymphatic drainage to achieve optimal post-surgical results.
To maintain permanent and satisfying results, the patient has to follow a diet, exercise regularly and avoid alcohol, snacking, etc.
Contact us:
Phone: 00 216 22 960 337 - Email: contact@carthagomed.com
Contact and quote request
Our team is at your disposal to answer your questions regarding liposuction or to provide you with a free quote. We invite you to contact us directly by phone or by filling the form that we put at your disposal in our contact page. We will make sure to answer your requests as soon as possible.