Buttock Lipofilling : Brazilian Butt Lift
from 3 100 € All Inclusive
---
Dreaming of having a curvier and more feminine Derriere? Our Brazilian Butt Lift makes your dreams Come True!
The phenomena of the Jennifer Lopez derriere, or also that of Kim Kardashian and Beyoncé have contributed to the formation of the decisive criterion of curvy and feminine derrieres in women's aesthetics. Buttock enhancement through lipofilling has therefore become one of the most requested and performed surgical acts worldwide. According to this need, buttock lipofilling or Brazilian Butt Lift was brought from Brazil; where women are known to have beautifully rounded buttocks.
WHAT IS BUTTOCK LIPOFILLING?
Buttock lipofilling or Brazilian Butt Lift is a cosmetic procedure, which improves the size and shape of the buttocks. It involves removing unwanted excess fat from an area of the body, and injecting it into the buttocks.Thanks to the Brazilian Butt Lift, flat and slim buttocks are rendered round and in perfect harmony with the rest of the body.Buttock lipofilling is a straightforward two-phase procedure. First, excess fat is suctioned from a chosen area of the patient's body through liposuction. Then, this harvested fat is skillfully injected into the patient's buttocks, creating a fuller and more contoured appearance. Surgeons would advertise buttock lipofilling as the natural alternative to a buttock augmentation with implants for it requires no insertion of foreign elements into the patient's body.
ARE YOU A GOOD CANDIDATES FOR A BBL?
Buttock lipofilling is recommended for healthy female candidates who wish to get naturally curvier, rounder and bigger buttocks. Generally, this procedure is adapted for women with both gluteal volume defect and areas of fat accumulation in other regions of the body. However, a good candidate for this procedure should have a normal percentage of body mass index. It is important to note that obesity is considered a contraindication to this procedure.
How much does buttock lipofilling cost?
The Brazilian Butt Lift, a popular cosmetic procedure for enhancing the shape and size of one's buttocks through lipofilling, is now more accessible than ever with prices starting from just 3,100 €, all-inclusive. This affordable package not only ensures a cost-effective solution but also encompasses all essential aspects of the procedure, from the initial consultation to post-operative care. With this competitive pricing, individuals seeking a curvier and more sculpted rear end can achieve their desired look without breaking the bank, making the Brazilian Butt Lift an attractive option for those considering cosmetic enhancements.
During the procedure, what are the key steps?
The procedure is performed under general anaesthesia and is expected to last from two to three hours (for it associates two procedures: liposuction and lipofilling). Once the patient is put under anaesthesia, the surgeon makes incisions in the targeted area, and suctions excess fat through a cannula. Common targeted areas for liposuction are the lower back, saddlebags, flanks, the abdomen, and thighs. Then, the amount of fat will be purified by centrifugation, and later injected into the buttocks. This injection will be done delicately, with a quantity adapted to each case in the appropriate areas that can give the best gluteal morphology.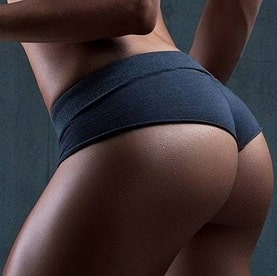 Post-procedure, what should be done?
It is advised not to sit on buttocks or lay on the back for three weeks until fat grafting heals. It is advised to lay on the stomach and sit on the inferior part of the buttocks in support of the thighs instead. A recovery period of one week has to be taken. Physical activity can only be resumed after one to two months. Buttock lipofilling a slightly painful procedure; thus the surgeon will prescribe appropriate pain medication to alleviate any discomfort or pain. It is recommended to wear a compression garment for two months after the procedure.
When do the buttock lipofilling results become permanent?
The results of buttock lipofilling are visible almost immediately. However, it will take some time for the final results of the procedure to fully develop. Final results are therefore visible after three months; buttocks are more voluminous, and in perfect harmony with the rest of the body. Results are stable starting from the fourth month, and become permanent in the sixth month following surgery. The patient should nevertheless avoid gaining weight as the latter may alter the shape of buttocks.
Contact US :
Phone: 00 216 22 960 337 - Email: contact@carthagomed.com
CONTACT AND QUOTE REQUEST
Our team is at your disposal to answer your questions regarding Brazilian Butt Lift or to provide you with a free quote. We invite you to contact us directly by phone or by filling the form that we put at your disposal in our contact page. We will make sure to answer your requests as soon as possible.