Gynecomastia : Cosmetic Surgery
for 2 200 € All Inclusive
---
We offer you gynecomastia procedure to restore a natural looking masculine appearance to your chest!
Gynecomastia is a cosmetic surgical procedure, which removes excess fat and glandular tissue to restore a flatter, firmer and more masculine contour to the chest. This development can occur on one side or both.

INDICATIONS FOR GYNECOMASTIA
During the preliminary consultation, the surgeon will evaluate the patient's general health and determine the causes of adipomastia along with what solution to adopt.
Breast echography exploration will set the protocol to follow for Gynecomastia.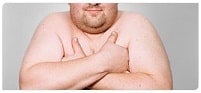 FAT ACCUMULATION OR ADIPOMASTIA
Adipomastia or fatty breasts are usually due to heavy weight loss. In this case, a simple liposuction would suffice to remediate the problem.
EXCESSIVE DEVELOPMENT OF MAMMARY GLAND
Some men suffer from excessive mammary development, which result in droopy breasts.
This phenomenon is generally due to hormonal imbalances, whereby the secretion rate of oestrogen (causing mammary development) is higher than that of androgen (limiting mammary development).
Gynecomastia corrects excessive mammary development through a liposuction of excess fat and removal of cutaneous excess in the chest area.
Gynecomastia Results
Mammary development can be the result of a medical treatment blocking androgens. Indeed, certain antibiotics, hormonal treatments, or neuroleptics cause gynecomastia.
PHYSIOLOGICAL GYNECOMASTIA
Gynecomastia can be related to the age of the patient. In this case, we talk about physiological gynecomastia.

Teenage gynecomastia: It is the development of male breasts in adolescent boys going through puberty. It can appear staring from the age of 13 or 14 years old. Gynecomastia in teenagers usually goes away by the late teen years. The excess breast tissue growth seen during puberty is a result of hormonal changes in the body affecting both androgens and oestrogens. Within a period of 6 months to 2 years, teenage gynecomastia should go away without any intervention. If it carries over into adulthood, it is considered as a true gynecomastia.

Gynecomastia for adults: breast enlargement can appear starting from fifty years old. The more men age, the lesser the secretion of androgens is, thus causing breast enlargement.
MIXT GYNECOMASTIA
This is the case of glandular hypertrophy associated with excess fat in the breast. It is the most common case and intervention then combines liposuction and removal of the mammary gland.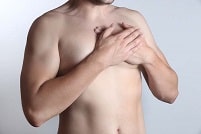 DURING PROCEDURE
In cases where gynecomastia is primarily the result of
excess fatty
tissue,
liposuction
techniques alone may be used. This requires the insertion of a cannula through several small incisions to extract fat. In the case of a liposuction, the procedure will last from 20 to 30 minutes.
However, if the procedure requires removal of the
mammary gland
, it will take an hour.
Generally, gynecomastia includes:
A liposuction of excess fat.
The reduction of the mammary gland (If necessary).
Tightening of chest skin.
Covering the incision with a bandage.
AFTER PROCEDURE
The procedure involves minimum pain in case of a liposuction.
If the patient has their mammary gland removed, the procedure will be slightly painful. However, the surgeon will prescribe antalgics to alleviate the pain.
After the procedure, the chest is temporarily swollen and bruised. The patient may also experience numbness or a burning sensation.
The patient will be given a compression garment to wear for several weeks after the surgery.
The patient has to take 10 days off of work to recover. Physical activities can only be resumed after four weeks at least. If the patient has only done liposuction, then the results of the procedure are not painful.
In the case of a removal of the mammary gland, the pain will be felt more, but they can be relieved with analgesics and will eventually fade after few days. Patient will notice the presence of bruising and oedema that will eventually fade and disappear completely.
To limit swelling and avoid bruises, the patient must wear a bolero contention for three weeks.
The patient must be out of sickness for about 10 days, but if his professional activity requires more effort then he must remain at rest longer ; however, he will have to wait three or four weeks before he can resume the sport in a progressive manner.
RESULTS
The patient will be able to enjoy satisfactory results several weeks after the procedure. In order to maintain a naturally masculine appearance of their chest, the patient has to adopt a healthy lifestyle.
The mammary gland regains its normal appearance after the elimination of fat.
However, in order to preserve this result, patient has to pay attention to his diet and his lifestyle.
Contact us:
Phone: 00 216 22 960 337 - Email: contact@carthagomed.com
Contact and quote request
If you wish to contact us for more information and details about the procedures (medical file, length of stay, etc.) Or to request a free quote, we invite you to call us directly by phone or to fill in the contact form available on our website. Our team will be delighted to answer all your requests.