Buttock Augmentation With Implants 
ALL INCLUSIVE for 3 300 €
---
Not wearing your Jeans well? Dreaming of having firm and round buttocks? Then, buttock augmentation is the best option for you.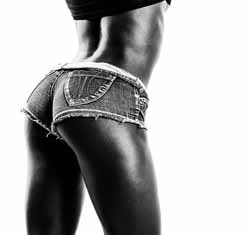 Very popular in South America and particularly in Brazil, buttock augmentation has now become one of the most requested aesthetic procedures worldwide. For all the females and males who find their buttocks too flat or droopy and wish to make them curvier and rounder, buttock augmentation is the ideal surgical solution to fulfill their wishes.
What are the indications for buttock augmentation?
In general, flat buttocks are a consequence of genetics. The procedure is practiced for both men and women although the latter who ask the most this operation for aesthetic reasons: indeed, according to common thoughts, it is more attractive for a woman to have round buttocks. Buttock augmentation is a suitable option for several scenarios. Firstly, when someone has naturally flat buttocks and desires a more appealing shape. Secondly, it can help individuals with sagging or loose buttocks caused by significant weight loss or aging by lifting and firming the area. Lastly, if one's buttocks don't harmonize with the rest of their body and they wish to enhance their overall silhouette, this procedure can create a more balanced appearance, ensuring the buttocks align with the body's proportions. Buttock augmentation can be performed starting from the age of 18 years old. In some instances, the surgeon may suggest a liposuction of the hips for better results.
What are some options for buttock implants in the UK?
In order to reach satisfying results, it is important to choose good quality buttock implants before preceding to surgery. Prosthetics are adaptable, but much more resistant than those used for breast augmentation. The size and shape of implants is chosen depending on the patient's morphology; thus, it is possible to choose between prosthetics that are round, oval, biconvex, oblong, having different sizes and volumes.
What is the composition of the prosthesis?
The highly cohesive silicone gel filling provides a natural feel and appearance to the buttocks, ensuring a comfortable and realistic result. This gel is designed to stay in place and resist migration within the prosthesis, offering long-lasting benefits for those seeking buttock augmentation. In summary, buttock augmentation prostheses consist of a silicone shell filled with highly cohesive silicone gel, providing a safe and effective solution for enhancing the buttock's size and shape.
How much does for buttock augmentation cost?
Experience a transformative journey with our all-inclusive buttock augmentation with implants package for just €3,300! Discover the confidence and curves you've always desired through this safe and effective cosmetic procedure. Our dedicated team of skilled professionals ensures your comfort and satisfaction every step of the way. From pre-operative consultations to the surgery itself and the post-operative care, we've got you covered. Achieve the fuller, shapelier buttocks you've dreamt of without breaking the bank. Book your consultation today to embark on this life-changing transformation.
What are the preparatory steps recommended before undergoing buttock augmentation?
During the preliminary consultation, the surgeon will help the patient choose the Implants that suites more her silhouette.The surgeon will examine the degree of butt slackening, skin quality and the overall health of the patient. A medical check-up and a blood test are required and a consultation with the anesthesiologist should take place before the intervention.
Before undergoing the procedure, several important instructions must be adhered to for optimal results and safety. Firstly, it is crucial to abstain from any medications containing aspirin for at least ten days leading up to the surgery. The surgeon will provide specific guidance on which drugs to avoid to prevent any complications. Secondly, smoking should be completely discontinued not only one month before but also for a month after the surgery. Smoking can significantly hinder the healing process, so it's essential to prioritize a smoke-free lifestyle during this critical time. Lastly, on the day of the procedure, the patient will be required to fast for several hours beforehand to ensure a smooth and safe operation. Following these instructions diligently will contribute to a successful and complication-free surgical experience.
What happens during a buttock augmentation procedure?
During the buttock augmentation procedure, which typically lasts two to three hours and is performed under general anesthesia, the surgeon strategically makes incisions in the natural creases of the buttocks to minimize the visibility of scars. Silicone implants are then carefully inserted, either within the muscle or above the gluteal muscle on both sides. To complete the surgery, the surgeon sutures the incisions and applies a compressive bandage to aid in the healing process.
What happens after a buttock augmentation procedure?
Following buttock augmentation, there are important post-procedure guidelines to ensure a successful outcome. It's crucial to avoid sitting on the buttocks for the first two weeks after surgery; instead, opt for standing or lying on your stomach. Plan for a minimum two-week recovery period, which extends to a month if your job involves physical exertion. Steer clear of physical activity for at least two months, resuming only with your surgeon's approval. If you experience any discomfort or pain around the surgical areas, your surgeon will provide appropriate pain medication. Additionally, post-operative check-ups will be scheduled to monitor your recovery progress.
What are the results of Buttock augmentation?
The results of buttock augmentation are immediately visible. After 3 to 6 months, the final results can be seen. The prostheses are stabilized, the skin of the buttocks is supple and the new curves can be appreciated.The patient can retrieve normal sensitivity in the buttocks. Thus the patient will have benefited from a volume gain in the buttocks, their appearance is more aesthetic and more attractive and the silhouette is more harmonious.Over time, post-surgical swelling will resolve and incision lines will fade. Satisfaction with your new image should continue to grow as you recover and realize the fulfillment of your goal for a bigger butt. Results of this surgery are permanent.
Contact us:
Phone: 00 216 22 960 337 - Email: contact@carthagomed.com
Contact and quote request
If you want to ask for more information or want to request a free quote, do not hesitate to contact us by phone or via the contact form at your disposal in our site. Our team will be happy to answer all your questions.